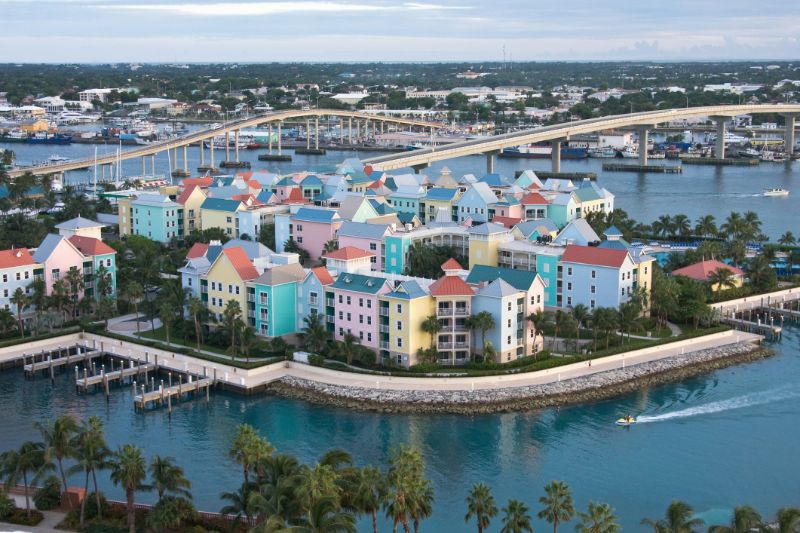 The Bahamas is among the top choices for real estate investments, and it's not hard to see why. Real estate market trends here reveal that supply and demand for homes are relatively stable despite the ongoing pandemic. Then there's the appealing tax environment where you won't have to pay income, capital gains, or inheritance taxes. Moreover, even with many people returning to their offices as economies reopen, remote work will still be here to stay. For those who choose to continue working from home, what better way to do so than in lush tropical surroundings like The Bahamas?
If you desire the look and feel of living in paradise, then homes for sale in Nassau and in other islands of this magnificent West Indies archipelago will give you that lifestyle and more. Here are some of the most in-demand luxury communities in The Bahamas.
Lyford Cay and Old Fort Bay
Nassau, the nation's capital, has several sought-after residential communities. These include Lyford Cay and Old Fort Bay, two of the most well-established luxury residential communities in The Bahamas that feature grand waterfront houses and townhouses overlooking the marina.
Lyford Cay, located on the western edge of New Providence, is among the most exclusive enclaves in the Caribbean. Homes for sale here have easy access to exclusive amenities, including an 18-hole golf course, a 74-slip yacht harbour, and a state-of-the-art tennis center.
Old Fort Bay homes for sale, meanwhile, are perfect for those looking for classic elegance in a private gated community. Old Fort Bay in the northwest of New Providence is home to an exclusive clubhouse and a historic British colonial fort.
Paradise Island
On the northern coast of New Providence is Paradise Island, the most populous island in The Bahamas. The island is located across and connected to Nassau by two bridges stretching across Nassau Harbour.
Accessibility makes Paradise Island one of the most popular locations in The Bahamas. It also boasts luxurious properties, elegant apartments, lavish waterfront houses, and idyllic white-sand beaches like Cabbage Beach and Paradise Beach. One exciting feature here is Atlantis, a massive resort with exciting amenities like fine dining restaurants, a sprawling water park, a casino, and other facilities for a memorable staycation with the family.
Cable Beach
Along the northern coast of New Providence is Cable Beach. It is located halfway between Downtown Nassau and the Lynden Pindling International Airport. Its famous fine white sand beach strip that stretches for over two miles is a favorite of sun and surf lovers.
Cable Beach's proximity to luxury resorts, recreation and lifestyle amenities, an 18-hole golf course, and a high-end casino attracts both tourists and property investors. Properties for sale here include oceanfront condos, townhouses, and waterfront homes.
Kamalame Cay
Fancy a laid-back lifestyle on a private island in the heart of The Bahamas? Then you should consider looking at Kamalame Cay homes for sale for your next residence.
Kamalame Cay is a 96-acre private resort island edged by the Andros Great Barrier Reef. Living here is like being on vacation 24/7 as you are virtually in the midst of extravagant and exclusive resort amenities. Connect with nature, unplug, appreciate the island's natural beauty, and participate in world-class water sports and activities in this secluded island paradise.
Explore luxury communities in The Bahamas
With our luxury real estate experts at Viceroy Luxury Real Estate Group, you can find the property of your dreams in the most highly coveted communities in The Bahamas. Get in touch with us at 242.502.3400 or at info(at)viceroybahamas(dotted)com.